Magnet "Space flight" in mixed technique
Each century is marked by discoveries in various fields of science. The twentieth century gave mankind a flight into space and the possibility of exploring space bodies, planets, processes in direct contact.
Once everything that our civilization is proud of seemed like an invention of science fiction writers or romantic scientists who were known to be insane. And now we are striving to fly to Mars, to search for other planets suitable for people's lives. On the eve of the Day of Astronautics, we decided to make a thematic magnet with the image of a space flight. If you like this idea - a detailed master class will tell you how to make an unusual magnet of the most common materials as crafts for Cosmonautics Day.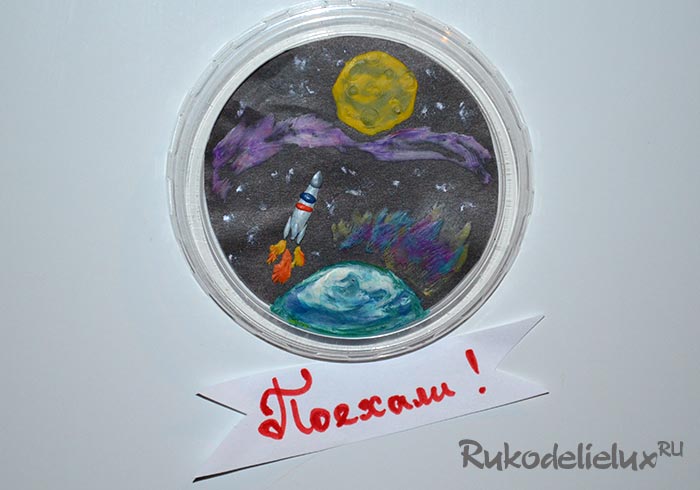 To create an original magnet with space, you will need:
plastic sour cream cap;
dark colored paper;
plasticine;
magnet;
simple pencil;
rods from handles with different diameters
glue stick;
glue gun
small scissors;
toothpick.
Takes to the Day of Astronautics with his own hands
Measure the inside diameter inside the lid. On a sheet of black or dark blue paper, draw a circle of the desired diameter.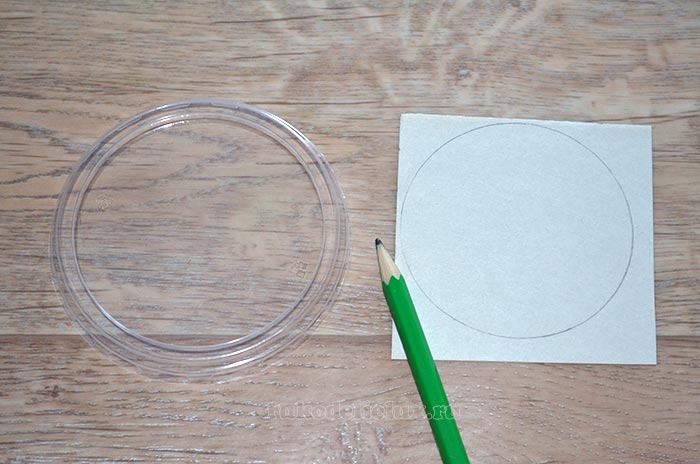 Cut a circle background and stick it inside the plastic cover.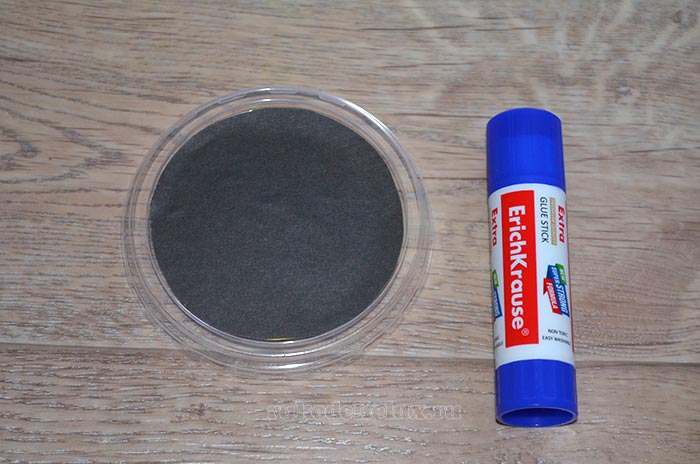 Take blue, green and white clay and roll small balls.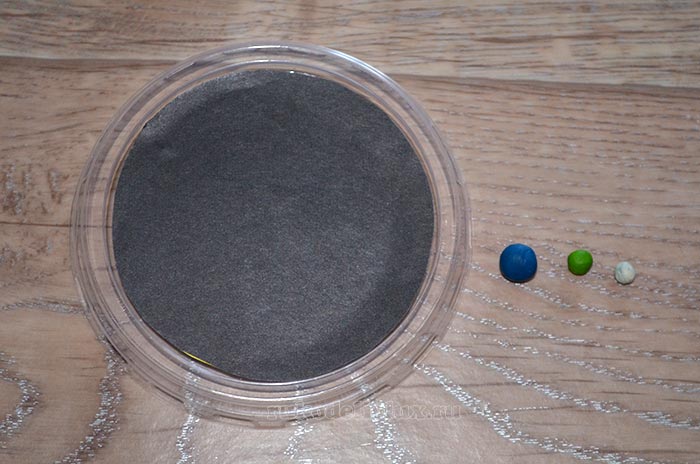 Add blue plasticine and green and white on top of it.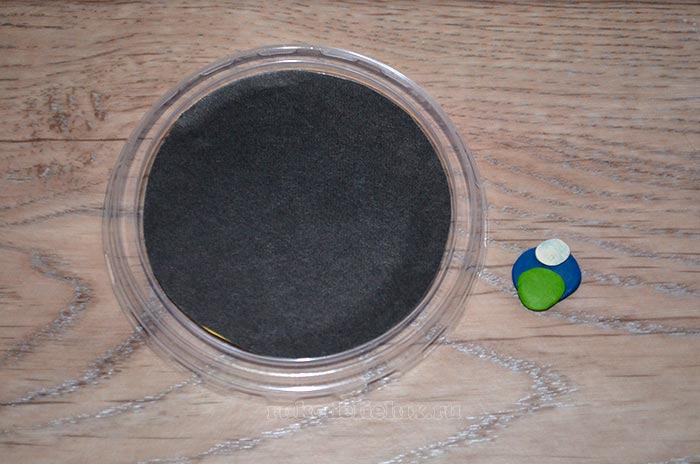 Mix the colors to create a smudge and flatten the clay in a thin layer. Cut out the semicircle with scissors and stick the background down. Add white cloud-streaks on the surface of the clay-earth.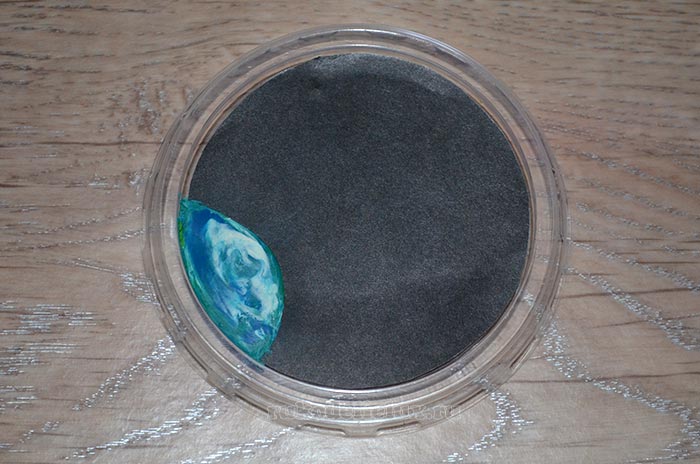 Roll a small ball of yellow plasticine.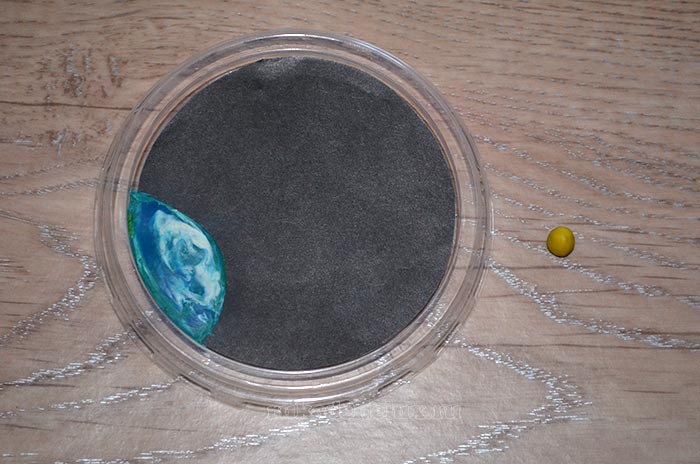 Place a ball in a circle with jagged edges and glue diagonally from the ground. With the help of rods from the handles make a semblance of craters.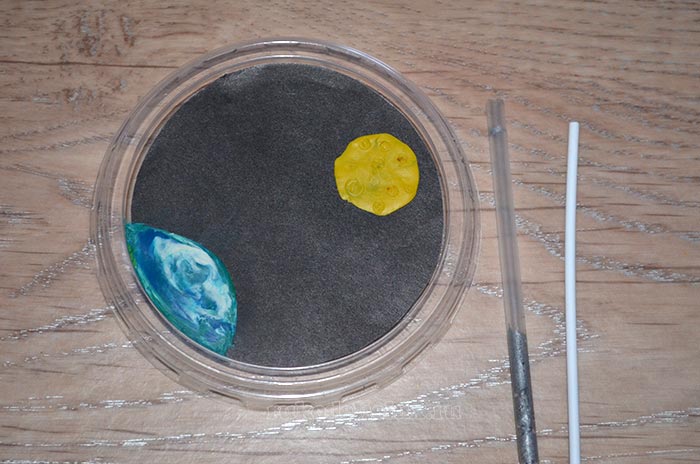 Add gray plasticine stains and again "walk" the craters along the craters.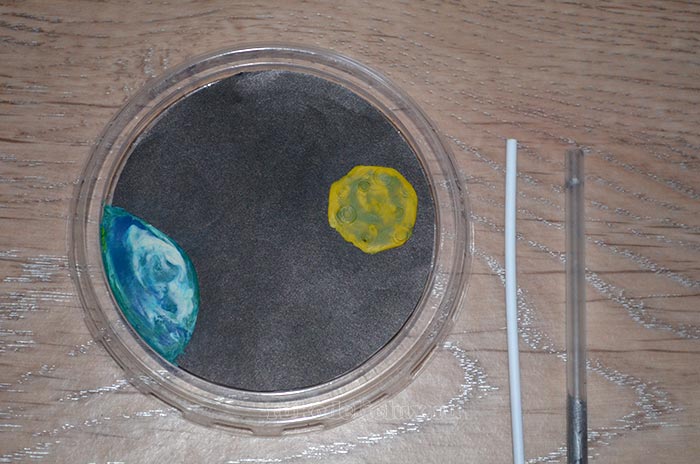 Connect the blue and silver clay and roll the ball.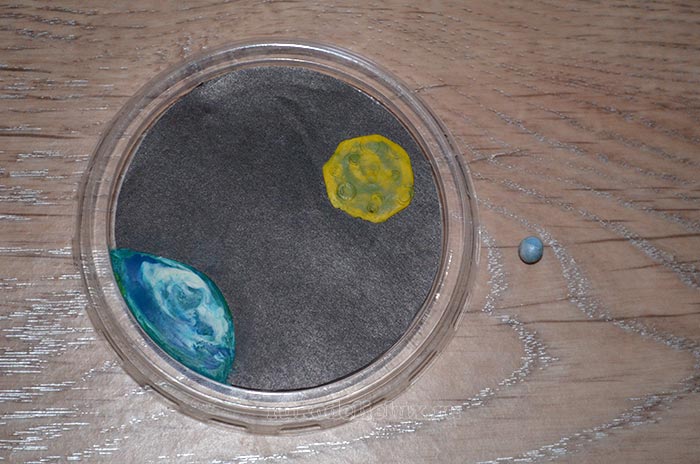 Blind an extended body for a rocket, as well as three small turbines, as in the picture.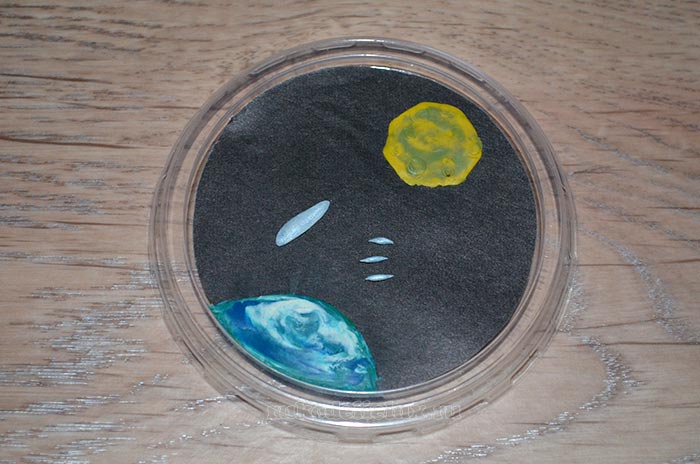 Connect the turbines with a rocket. Make small plasticine rollers in blue and red. Make a small triangle out of gray plasticine.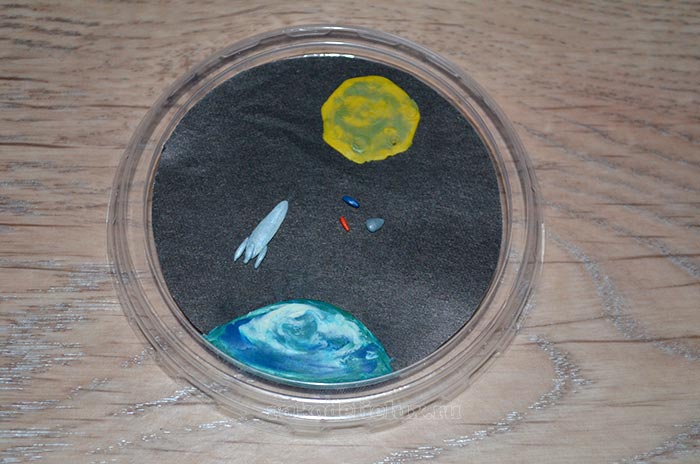 Stick strips to the base and a triangle to the top of the rocket.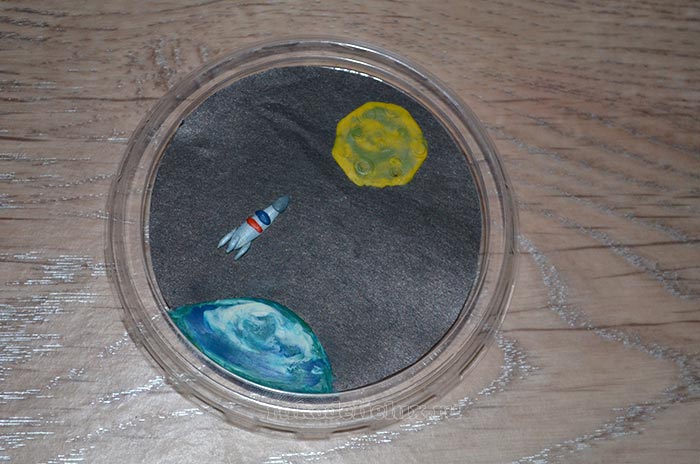 Roll small balls of red, orange and yellow clay.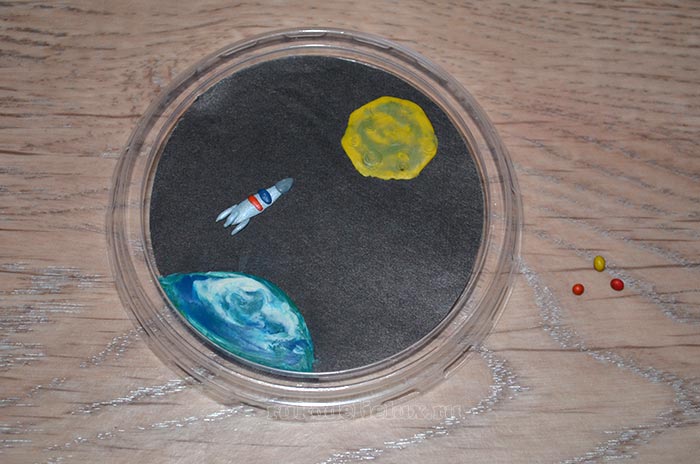 Connect the balls of three colors and flatten them into a thin layer. Gently tear the layer into several pieces of different shapes. Glue several splashes of fire under the rocket turbines.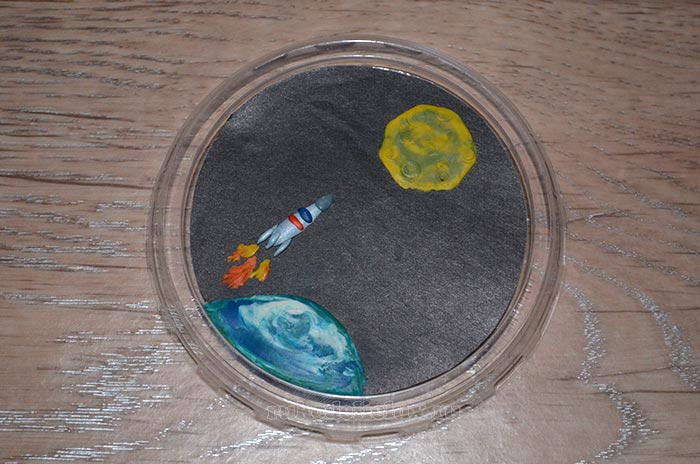 Take a little yellow plasticine and spread it from one side of the planet Earth. You should get a translucent divorce.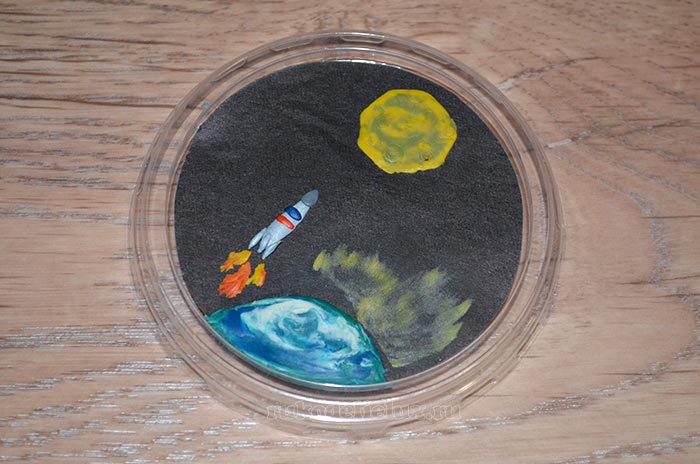 Add purple and turquoise stains to create a semblance of northern lights.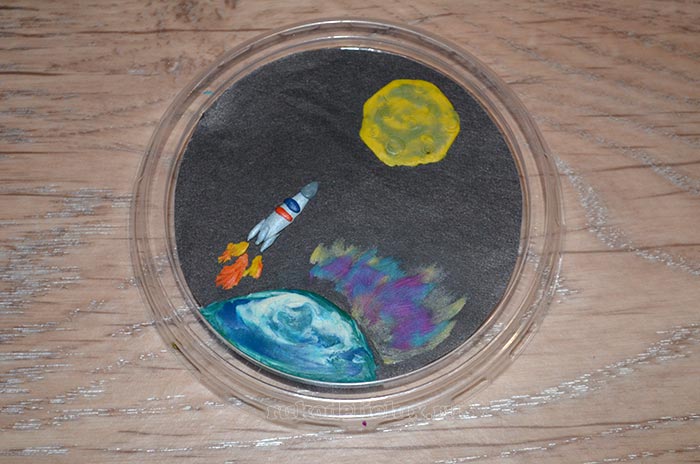 Toothpick apply a pattern on the surface of the shine.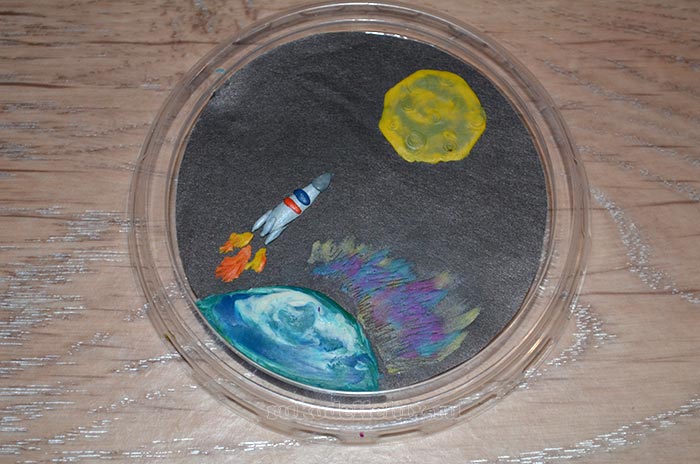 Mix white, purple and pink plasticine and spread from edge to edge to create a semblance of the Milky Way.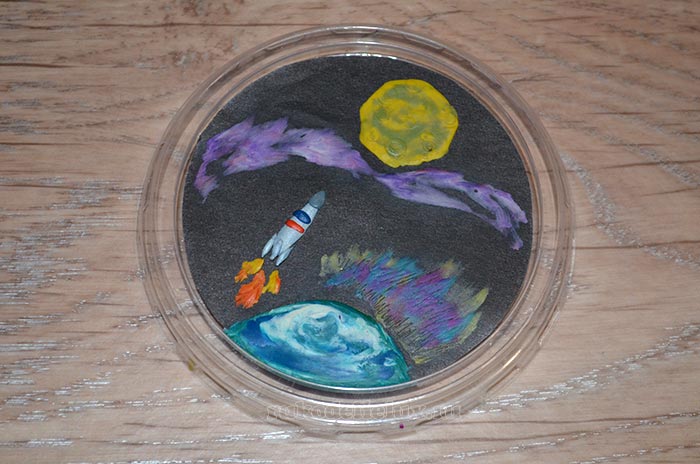 Place small pieces of silver clay on the free surface.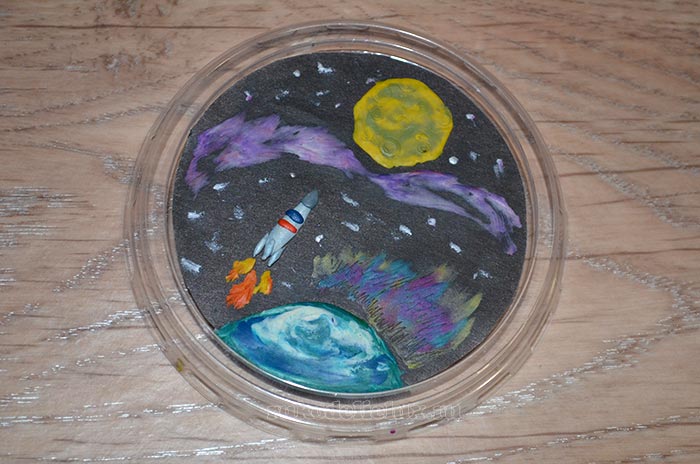 Press the silver dots with your finger to remove excess toothpick. Prepare a magnetic workpiece.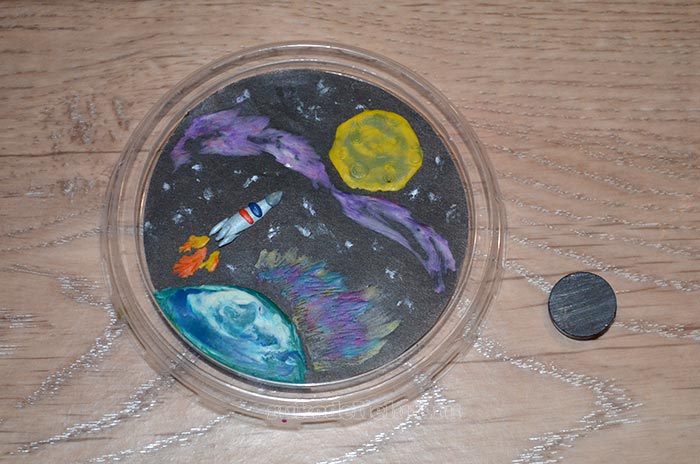 Glue the magnet to the back of the cosmic landscape, using a glue gun or a special all-purpose adhesive for metal and plastic.
The unusual space magnet in mixed technology is ready!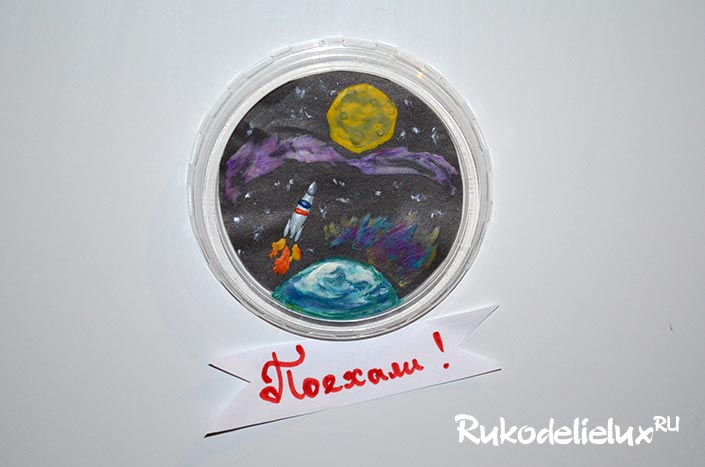 Incredible! Thanks to our efforts, the infinite beauty of space fit in a small magnet!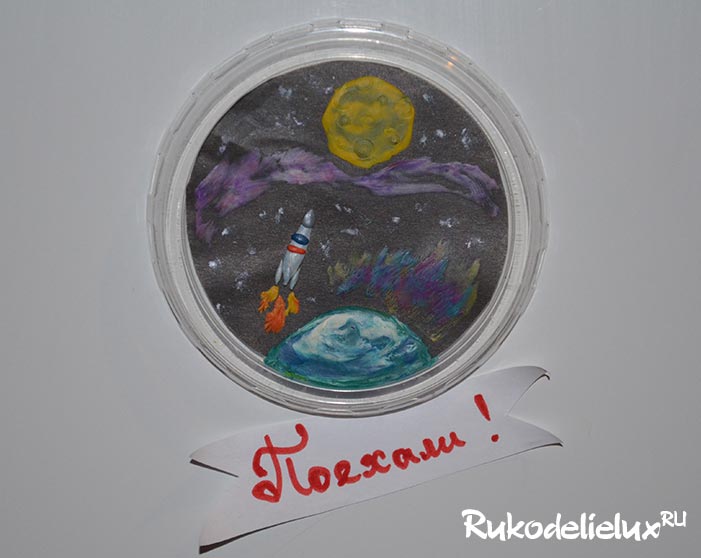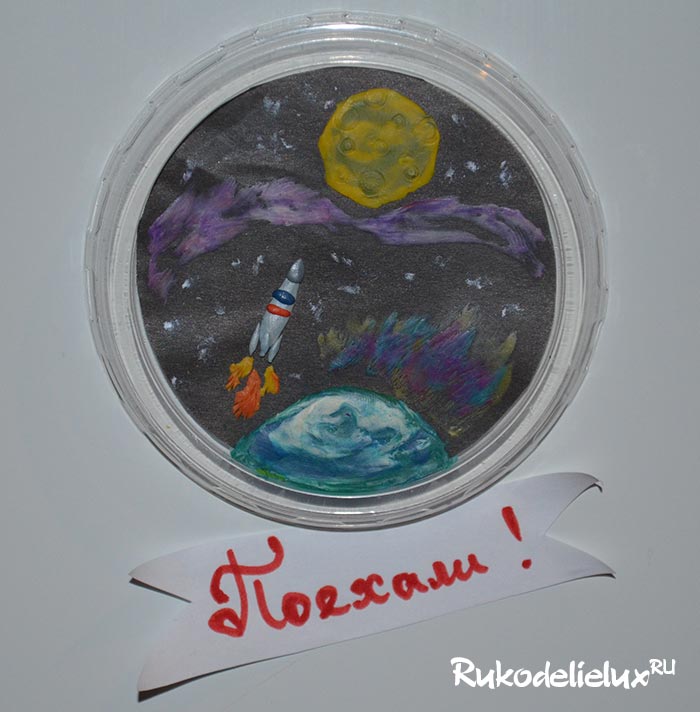 Such souvenir magnets will be a pleasant surprise for friends and loved ones. And if you show imagination - you can make a series of fridge magnets with various space landscapes and ship-researchers of the fantastic expanses of our universe.
Related News:
Three for a podium bed in a compact bedroom
Cup holder
How to animate a smartphone with a deceased battery
Crafts from old plugs
American Staffordshire Terrier: Care and Nutrition
Armrest for car